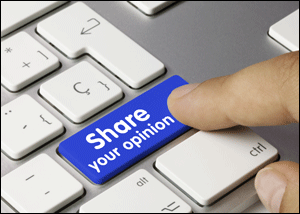 Online Customer Reviews Will Be More Relevant Over Time
As a web design and marketing company, we constantly hear about online customer reviews becoming more of a standard part of any Internet marketing strategy in relation to search engine index rankings (also known as SERP's). However, what seems to make sense for it being a top priority factor in rating a business now, I think there are still legitimacy and validation issues that logically need to be addressed before it becomes more of a reality.
I've been developing and marketing websites since 1994 and the common sense behaviors' concerning the human nature side of the Internet has never been hard to figure out. What has been amazing to see is how the technical side has changed to meet them. In the past, you could be the worst product or service company in the world but if you had a crack SEO company promoting you online, you could still be at the all-important first page – first position ranking for whatever it is you do. The way the Internet is evolving today, it makes sense that people's posted opinions, feedback and reviews about your product or service is going to be the major determining factor on how well you index in the future. A phrase I've used more than once is, "It's becoming more about what others say about you than what you say about yourself".
All of the pieces for this to happen have fallen into place. We now have fairly universal high bandwidth Internet access that improves by the day; then we have Facebook, Instagram, Twitter and varying other well established social media entities; and finally the advent of total mobile freedom with tablets and smartphones - and now has us pushing towards smart watches and eye wear.
It has rapidly transformed the behavior of all of us. As a habit now, my face is now stuck in my Samsung S3 for pretty much everything from getting local and national news from apps, checking my email, texts, calendar, task list and weather; listening to my favorite music with Pandora or music files; finding my way around with maps/GPS; avoiding police speed traps with Waze; and watching Youtube, Netflix and online TV shows through its browser.
I am using it to find places to eat, shop, be entertained and for things to buy. And, yes… I don't trust anyone I have not done business with before and I do want to see customer reviews about their product and services as a deciding factor to purchase.
I don't have to tell you all this. I know you're doing the same.
Why Online Customer Reviews Are Still Not Rampant
This is a blog. I want to make clear that I am writing my opinion based on what I am seeing and researching that makes sense. There are all kinds of online stats that support the fact that reading customer reviews are very important to the Internet user*. Anonymous reviews have become obsolete where they were common in the past. It left too much liability open for foul play.
The major drawbacks for customer review entities is preventing fake or malicious negative review campaigns and controlling illegitimate positive reviews. Examples are a competitor or "disgruntled" customer or former employee posting a negative review campaign against you online or hiring someone to sit and post a multitude of positive "ghost" or fake customer reviews.
There are legal ramifications with all of this, of course. Numerous high dollar lawsuits have already been filed - and won - against consumers or individuals by businesses and vice-versa and I'm sure there are other scenarios that haven't even been thought of that will arise out of this over time. It makes sense for them to approach this patiently.
Thus, legitimate reviewers are currently controlled by requiring them to register themselves before submitting their review. In the real world, this involves time to perform and the reviewer not knowing what deluge of sales phone calls or spam emails are going to come of said registration– something people are still not keen on the idea of.
Verifying individuals through their social network profiles when they want to post a review is probably the logical answer in the future. However, I think this probably touches on the Internet privacy issues that people are legitimately concerned about.
I think everyone realizes Facebook and Google probably could tell us more about us than we know about ourselves based on our voluntary "signing in" and allowing them to track who we connect to, what we buy and what we are interested or involved in. I'm not so sure people are ready for that data to be blatantly exploited.
There is also talk of them being able to verify you and take it to another level of personalizing it so just viewing your profile will also prominently display every review you have ever posted; that even reviews from others for the same product or service will all tie in to also be viewed; or using your circle of friends and your collective habits for verification and other purposes that I can't even imagine – but sure others have.
In addressing the fake reviews issue, Yelp has been trying several ways to combat this including the mention of IP tracking from a 2012 article. I can't find solid evidence that Google and Yelp have actually implemented a filter to this extent. It makes sense that multiple reviews for an entity from the same IP address is an indicator of fake review submitting and can be prevented and penalized. If it is not in place yet, I would suspect it would be at any time.
How Has Mobile Changed All Of This?
Business directory and customer review sites have been online since the beginning of the Internet. Again, understanding the human nature aspect of the Internet, many out there have figured out that good local information was going to be a major factor for the Internet at some point. Many of these sites have come and gone over the years but I feel now the survivors are coming of age with some of their placement in search returns and the info they provide for mobile users. Best common sense scenario to use is being in an unfamiliar town and wanting to look up hotels, restaurants and things to do with reviews from others to help make decisions. Whatever online entity figures out best how to easily display accurate trustworthy information results and reviews will end up being the winner of this game. So far Google and Facebook appear to be leading the pack.
Start Your Customer Review Submission Habit Now
So what I am telling you is all indications are that all Internet marketing entities are touting the importance of getting your customers to submit reviews of their experience with your service or product. We are pushing our clients to start offering an incentive to any customer that takes the time to submit positive reviews to the most relevant review entities out there. Each submission can be a 15 minute task and you may be asking for several to be posted.
The review sites carrying the most clout today are Google+, Yelp, Bing, Manta, MerchantCircle, YP.Com and Insider Pages. Insider Pages may be the least known of these, but does a good job of disseminating their reviews to other review sites. There are other industry specific review sites to be listed in such as Houzz.Com and AngiesList.Com if you are a residential home improvement or service related business. You most definitely want to be in regional business listing and review sites typically run by your area newspaper, as well.
We are starting by making it easy for our client's customers to directly submit a review from their existing company website. We are putting a widget in our client's websites that have direct links to register and submit a review to whatever number of review sites that apply.
You only need to be proactive in making sure to offer an incentive for the customer to submit the review. Offer a gift certificate to a restaurant when the customer has demonstrated that they have submitted the reviews.
I would stress that if they only submitted to one – it would be Google+. Google+ is integrating reviews as part of your search results and Google Business listing. They are also taking these reviews more into account concerning indexing as things become more refined.
You also need to develop a strategy of checking review sites on a frequent basis to respond to negative reviews that may appear. All of them offer a means for the business owner to try and rectify or answer to a negative situation.
I would recommend getting customer reviews legitimately. Stay away from customer review contractors that are probably overseas entities or sitting down at your computer and submitting fake reviews yourself. This will do more harm than good if IP tracking is being used. Best practice is your customer doing this from their own computer and would strive for trying to get 3-6 separate reviews a month.
The goal with pushing your customers to give reviews is to demonstrate an active pursuit of feedback - especially if there is a consistent frequency of people submitting over time; responding to negative reviews professionally; getting more content online related to your business for indexing purposes; and the more positive varying reviews you have over different directory sites the better as reference back to your website.
---
References:
Why Yelp Is Fighting Fake Reviews with Public Shaming  – October 23, 2012
5 Predictions About the Growing Power of Online Customer Reviews - August 28, 2014
Local Consumer Review Survey 2014 – July 1, 2014
Why Online Customer Reviews Will be More Important in 2014