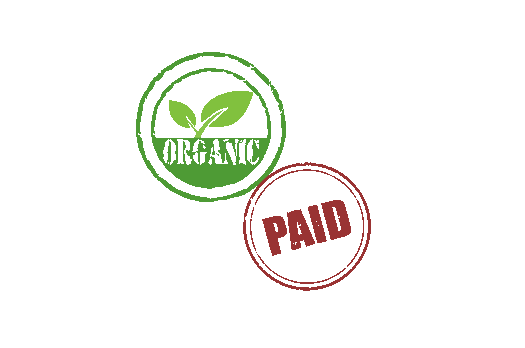 Organic versus Paid Search - How Do you Choose?
Organic search results come from the algorithm used by the major search engines, whereas paid results are  links that come from money spent to place them on the results page. With organic searches, you rely upon SEO (Search Engine Optimization) to guide the user to your product or service. Paid results are easily recognized and are usually set apart with a shaded box or else are noted with a phrase like "sponsored content" and consumers are not as likely to click through these links.
Approximately 80% of website traffic is directed to your site via search engines. Studies do show  people tend to give business to results appearing at the top of the page, either paid or organic. But internet users overwhelmingly click on organic results by a margin of 94 percent to 6 percent on both on Google and Bing. This makes it very important to include basic SEO best practices when building a website. It also makes it imperative to stay abreast of algorithm changes implemented by the search engines.
Paid Search Benefits
There are times when paid search ads are more effective. Reaching the top of organic searches list takes time and work to achieve. Paid results go to the top of the page as soon as they are purchased. Paid, or "Pay Per Click" ads can be customized to reach your exact target demographic by criteria such as location, income, age, gender or industry. The cost of these ads is driven by the popularity of the keywords being searched and the frequency in which your demographic searches them. Thus, monitoring your ads and adjusting your budget is paramount.
Working With Both Venues
In most cases, success stems from a combination of both types of search results. Top ranking organic results carry with them a sense of respectability, which is  useful for service-oriented businesses.  But for companies that are product specific, paid ads can help to drive clicks to the website and potentially increase revenue. Organic search results are also evergreen; they have the potential to rank even after you have completed the work, whereas paid ads stop showing up when you stop paying.  So there is no real organic versus paid search but rather organic and paid search that you want to target. Therefore, it is strongly recommended to have both good organic and paid results in your internet marketing plan.