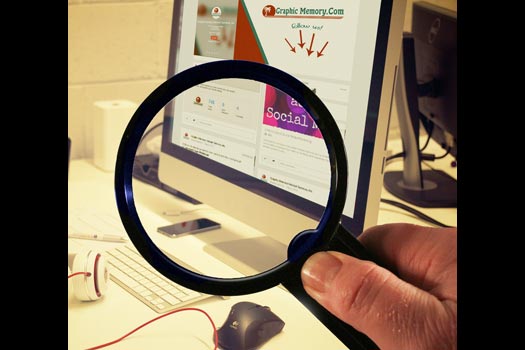 Analyze & Scrutinize Your Social Media Strategy
Once you have set your Social Media goals using the tips from our last social media blog (http://bit.ly/1A2cZAq), it will be time to give your current Social Media strategy program a good audit.
Start by making a list of the platforms that you are currently on. Are they still major players? Chances are if your business is on MySpace, it's time for an overhaul. Are you verified in Google for Business? This creates a Google Plus page, which links your Google business, Google Plus, and Google Maps all together. Your Google reviews can be found here as well, and you can even directly link your YouTube channel to your page.
Now what about Facebook? There has been a drastic decline in organic reach on Facebook, but it is still a good place for potential clients to vet or review your business. How about Twitter? This is a platform that many businesses underestimate. The potential for exposure on Twitter is wonderful. Pinterest is a great place for businesses as well! Another platform many businesses miss out on by not having a presence is LinkedIn for Business. If you do not have the time to manage multiple platforms on a regular basis, and do not have the budget to hire a company to manage your Social Media strategy for you, then you will be best off choosing 2-3 major platforms and keeping them fresh, updated, and interesting.
The next step of your social media audit is to determine how up-to-date your current profiles and platforms are. Do you keep your information current?  All of your professional and contact information should be consistent, link back to the appropriate places, and be formatted similarly.  I know this may seem like common sense, but it's a step that so many people overlook!  Accuracy, consistency, and visual appeal go a LONG way in marketing yourself.
Keep scrutinizing! Are your pages visually appealing?  Brand yourself!  Make sure to use image size best practices.  Keep your profile picture, header, and logo (if you have your own) consistent.  Think about any major company or professional figure out there.  They tend to be very visually consistent across the board.  If you're anything like me, you might want to get creative and have different headers and profile pictures on every platform, but trust me…You should keep at least the key elements similar in order to lend to brand awareness.  You want people to know it's YOU, the same YOU, no matter what platform they find you on.
Finally, examine your content. Have you been posting consistently? Is the content that you post useful, interesting, or entertaining? If not, it may be time to reevaluate your content creation strategy. If the content you post on social media isn't interesting, then people have no incentive to follow you. Never forget to keep the "social" in your social media strategy!
Don't forget to subscribe to our blog, and keep your eyes peeled for the next segment of The Steps to a New Social Media Strategy!